ENTERTAINMENT
Freeze Frame: The Vietnam war photo that haunts Jane Fonda
In the 1960s and '70s, actress Jane Fonda was something of a revolutionary icon.
The Oscar-winning star's political and civil rights activism landed her in jail more than a few times and her infamous mugshots are legendary in the pop culture space.
Fonda's rebellion and passion for protest has lasted decades. So much so, she is often more renowned for her activism than her talents on the screen.
But the Barbarella actress isn't so proud of every decision she made during the height of her staunch activism in the 1970s.
READ MORE: Freeze Frame: The heartbreaking story behind John Lennon and Yoko Ono's Rolling Stone cover
READ MORE: Freeze Frame: The true story behind the infamous 'side eye' photo of Sophia Loren and Jayne Mansfield
One photo in particular of Fonda during the Vietnam war still haunts her to this day.
When American troops were sent into the South-East Asian country in 1965, Fonda became a vocal anti-war activist.
Fonda toured around the US to spread her message about withdrawing soldiers from Vietnam, met with prisoners of war and led protests.
It hurts me and it will to my grave that I made a huge, huge mistake
Her dedication to the peace movement came at a cost. Fonda's anti-Vietnam protests put her firmly in the sights of the FBI and CIA.
In 1970, Fonda, then aged 32, spent the night in a Cleveland jail on fabricated charges of drug smuggling.
The National Security Agency had tapped her phone and Fonda posed for a mugshot with her fist raised to the sky in defiance.
This photo shaped a generation of female activists and made Fonda the icon she is today.
But this isn't the photograph Fonda regrets. Rather, it was an image taken of the actress in Vietnam in 1972 which she said will haunt her "to the grave".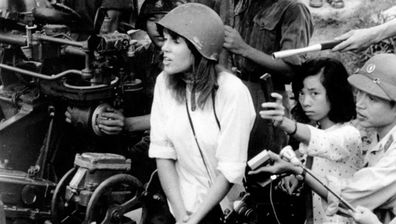 READ MORE: Great Women in History: Jane Fonda's path from actor to activist
Fonda's trip to North Vietnam three years before the war ended earned her the nickname 'Hanoi Jane', an unbecoming moniker that followed her for decades.
She had accepted an invitation to visit North Vietnam, a nation that had been in the throes of war for almost two decades.
Fonda stayed for two weeks and during that time, a series of photographs were taken of Jane meeting with North Vietnamese troops.
In the pictures, Fonda was seen wearing a helmet while sitting on an anti-aircraft gun which was used to target American planes. She was laughing and smiling while surrounded by the Vietnamese press.
When the photos hit the US press, she was branded a traitor. Protesters claimed Fonda had switched allegiances and accused her of being against her own countrymen.
According to The Washington Post, the Veterans of Foreign Affairs even called for Fonda to be tried as a traitor.
The state of Maryland also considered banning her and her films.
Over the past five decades, Fonda has repeatedly apologised for the images and attempted to explain her side of the story.
"I will go to my grave regretting the photograph," Fonda said in 2001, thirty years after it was published.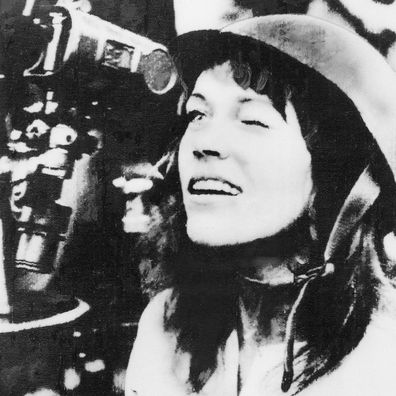 In her 2005 memoir My Life So Far, Fonda also said she didn't realise exactly where she was sitting when the camera bulbs flashed.
"As I start to walk back to the car with the translator, the implication of what just happened hits me," she wrote. "Oh my God, it's going to look like I was trying to shoot down US planes!"
"I plead with him, 'You have to make sure those photographs are not published. Please, you can't let them be published'. I was assured it was taken care of."
Fonda told Oprah in 2012 that she felt as though she was "set up" by the photos, which depicted her laughing and smiling while sitting on the anti-aircraft battery.
READ MORE: A look back at Jane Fonda's most memorable style moments
"I was an emotional wreck by then," she said. "I don't know if I was set up or not. I was an adult. I take responsibility for my actions."
She also said she understood the vitriol which followed the publication of the images. "I understand the anger about that," she added.
While speaking at a personal engagement in Maryland in 2015, the Grace and Frankie star also expressed regret about the photos.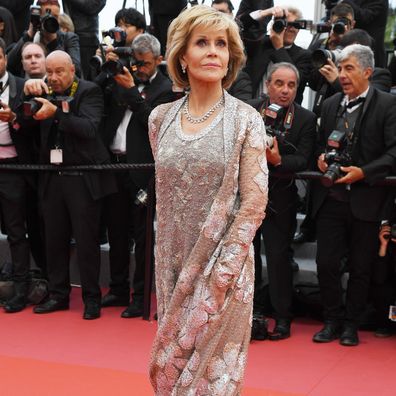 READ MORE: Jane Fonda's dating history: Everything we know about her past relationships
"It hurts me and it will to my grave that I made a huge, huge mistake that made a lot of people think I was against the soldiers," she said. 
However, protests still follow Fonda even fifty years after her visit to Vietnam.
At the venue in Maryland, protesters held up signs which read: "Forgive? Maybe. Forget? Never."
Fonda has spent decades trying to make amends with the American people over her controversial stay in Vietnam.
She often speaks with Vietnam veterans to understand their plight and explain she was never against the soldiers, only the US government.
"I'm a lightning rod," Fonda said in 2015. "This famous person goes and does something that looks like I'm against the troops, which wasn't true. But it looked that way, and I'm a convenient target. So I understand."
Despite the controversy surrounding her passionate activism, Fonda, now aged 84, still fights the power when she gets a chance.
In 2019, she was arrested and spent the night in jail after staging climate change protests at the Capitol in Washington.
And Fonda proudly told the Washington Post she will persist with her admirable protests until the day she dies.
"Why be a celebrity," she said, "if you can't leverage it for something that is this important?"
For a daily dose of 9Honey, subscribe to our newsletter here.
Share this news on your Fb,Twitter and Whatsapp
Times News Express – Breaking News Updates – Latest News Headlines
Times News Express||USA NEWS||WORLD NEWS||CELEBRITY NEWS||POLITICS||TOP STORIES