Movie/TV News
10 Biggest Triple Threats In Entertainment, According To Ranker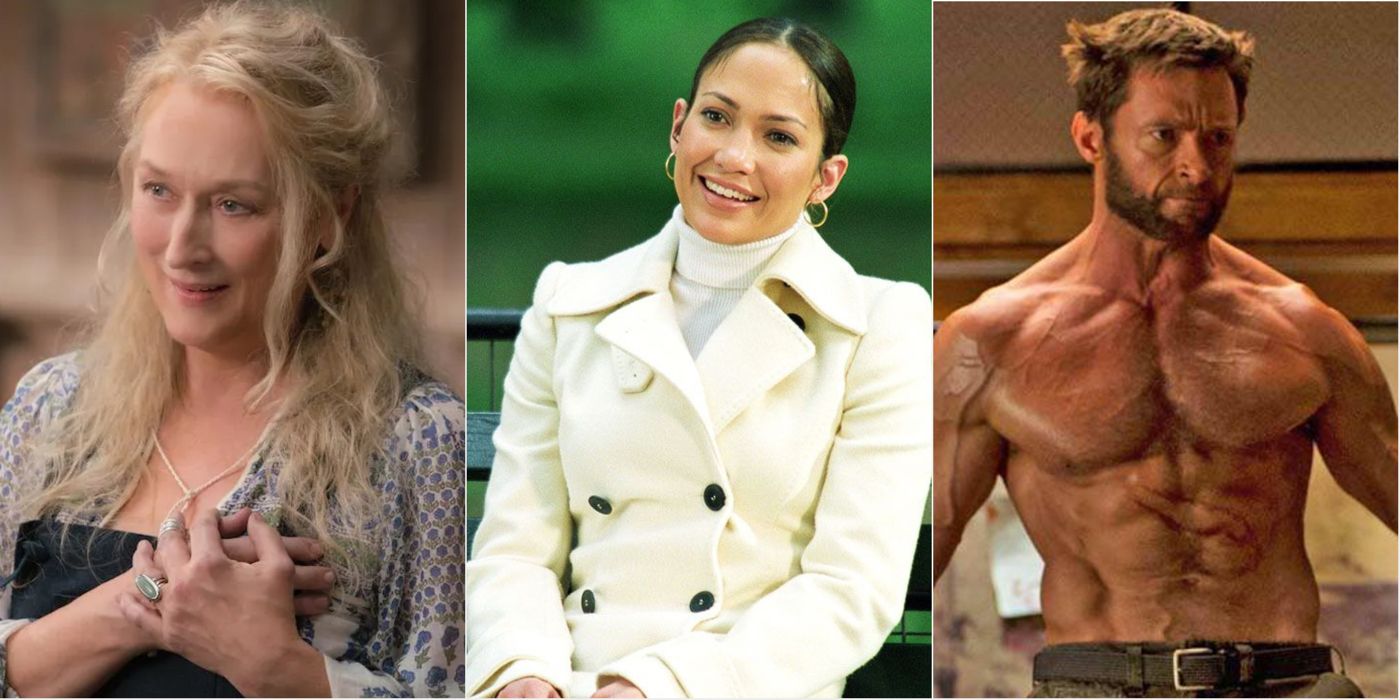 The upcoming Elvis has got fans of the "King of rock and roll" excited to see a story that explores his life through the relationship with his manager. Austin Butler has been cast as the titular character, with the task of using his acting, singing, and dancing skills to portray the artist.
As a role that requires a triple threat performer, the piece is the next in a long line of movies which have needed actors that can sing and dance. From 1977's Saturday Night Fever to recent Disney remakes, triple threats have made their talents known, and the website Ranker has provided a poll for people to vote on the biggest triple threats in entertainment.
Note: Ranker lists are live and continue to accrue votes, so some rankings may have changed after this publishing.
10

Meryl Streep
As one of the movie industry's most renowned actors, it's no surprise Meryl Streep made the list. With a decades-long career which has included treading the boards as well as being a highlight of the big screen, there's not much Streep hasn't accomplished.
RELATED: 10 Hardest Accents To Nail & The Actors Who Perfected Them
While her singing was intentionally flawed in the funny, yet deeply moving Florence Foster Jenkins, Streep's vocal skills were showcased in Mamma Mia!, along with her ability to move to the beat. From giving an accurate portrayal of Margaret Thatcher in The Iron Lady to switching on a steely look as Miranda in The Devil Wears Prada, there's no doubt that Meryl Streep is a strong triple threat.
9

Amy Adams
Amy Adams started her career with smaller roles that some audiences won't even be familiar with, including a minor part in The Office. But such roles were mere stepping stones to the great successes Adams has gone on to have.
With singing roles in a few movies, perhaps her most notable musical part was in Enchanted. Not only did the Disney performance showcase her triple threat talents, but the movie also introduced her to a wider audience of children, proving Adams' ability to adapt to any viewer.
8

Zac Efron
Although those that were young when High School Musical first came out may find it hard to believe, the upbeat musical came out 16 years ago, and in that time, Zac Efron's career has gone from strength to strength.
RELATED: Zac Efron's 10 Best Movies According To Ranker
It was evident that Efron was a triple threat from the start with his role as Troy Bolton, and he has continued to hone his craft. Following Hairspray, Efron once again upped his game by demonstrating his mastery in the arts with his part in The Greatest Showman. However, he didn't decide to remain in one genre after taking on the sinister, non-fictional part of Ted Bundy in Extremely Wicked, Shockingly Evil And Vile. Efron may be more than capable of singing and dancing, but his capability certainly doesn't diminish his acting-only roles.
7

Zendaya
Not only did she become Tom Holland's MJ, but the world was charmed by Zendaya's wonderful portrayal of the comics icon. Starting out in acting at a young age, Zendaya's time on the Disney Channel laid the foundations for her to later show exactly what she's capable of.
As one of the stars of Euphoria, Zendaya has proven her talents as a serious actor that has no problem presenting intense scenes. But it's her prior work that has demonstrated the skills which make her a triple threat. In The Greatest Showman, Zendaya's exquisite vocals and inspiring dance moves only enhanced the superb movie. She may be one of the modern-day Marvel characters, but she is also an actor to marvel at.
6

Justin Timberlake
Justin Timberlake made it known he could sing after starting out in 90s pop band NSYNC, which was the precursor to his greatly successful solo career. As an artist, he didn't shy away from incorporating dancing in his act, for which he has also become known for.
As if it wasn't enough to be one of the greatest pop stars, he added acting to his resume, undoubtedly making him a triple threat. His acting career has become just as popular as his singing, with roles in Friends With Benefits, Bad Teacher, and even a voice acting role in Trolls.
5

Jamie Foxx
Jamie Foxx has demonstrated his acting skills in a range of genres, including comedy. Though he's proven his competency in leading a superb Tarantino film by taking the role of the titular character in Django Unchained, (one of Jamie Foxx's best movies) the likes of Horrible Bosses allowed him to demonstrate his skill in humor too.
However, it doesn't end there. Foxx's career in the arts also spanned the music industry with successful hits such as "DJ Play A Love Song" and featuring on the popular track "Gold Digger." Whilst acting and singing are the two art forms which he's best known for, Foxx's dance moves came to light when he opened the 2009 BET awards with a dance routine.
4

Lady Gaga
Arguably, Lady Gaga has been a key force in changing people's perceptions of others and encouraging everyone to accept each other for who they wish to be. Her singing career became a platform for such a movement, delivering untouchable talent along the way. Alongside her singing, Gaga's music videos proved in abundance that she can move as freely as any other renowned dancer.
Further on in Lady Gaga's career, she took a dive into acting and made her part in A Star Is Born (which includes one of Lady Gaga's best original songs for a movie) every bit as stupendous as her music. And if her above-mentioned talents weren't enough to convince anyone of her triple threat status, she's also more than able to play a few instruments.
3

Neil Patrick Harris
Best known for his role as Barney in one of the best sitcoms from the 2000s, How I Met Your Mother, Neil Patrick Harris has taken the acting world by storm, performing to a high standard every time.
Broadway was (quite literally) a stage for his talents to appear, performing in shows such as Cabaret. On television in a guest appearance on Glee, Harris showcased his ability to sing with the duet rendition of Aerosmith's "Dream On," which fans of the show gave a thumbs up. When compared to big stars like Justin Timberlake, it may initially come as a surprise that Harris surpasses them on this ranking. But once his career is delved into, it's easy to see why.
2

Hugh Jackman
Playing Wolverine in the X-Men could've easily caused the actor to continuously be typecast into similar roles because he made the franchise character enthralling to watch. But to do so would only be restraining the rest of his talent.
RELATED: 10 Celebrities On Broadway Right Now
As a stage show, Les Miserables is a classic, known around the world. So taking up a role in the movie version held a lot of pressure. But Jackman was able to do it with style and excellence. While it proved his ability to sing, The Greatest Showman added the final triple threat layer with plenty of dance numbers that Jackman performed in too.
1

Jennifer Lopez
Jennifer Lopez, or as her older fans may still refer to her, "Jenny from the block," is without question one of the greatest triple threats, and it's no shock she ranks highest.
Her career as a singer started in the 90s where her outstanding vocals came to light alongside a dancing ability that singled her out as one of the most brilliant acts of the time. As an actor, her performances only ever leveled up with her singing talent. While her talents are seemingly endless, Lopez also moves with the times, with no end of her career in sight.
NEXT: 10 Comfort TV Shows According To Reddit

Next
The 10 Best Insults From Harry Potter, According To Ranker

Share this news on your Fb,Twitter and Whatsapp
Times News Express – Breaking News Updates – Latest News Headlines
Times News Express||USA NEWS||WORLD NEWS||CELEBRITY NEWS||POLITICS||TOP STORIES