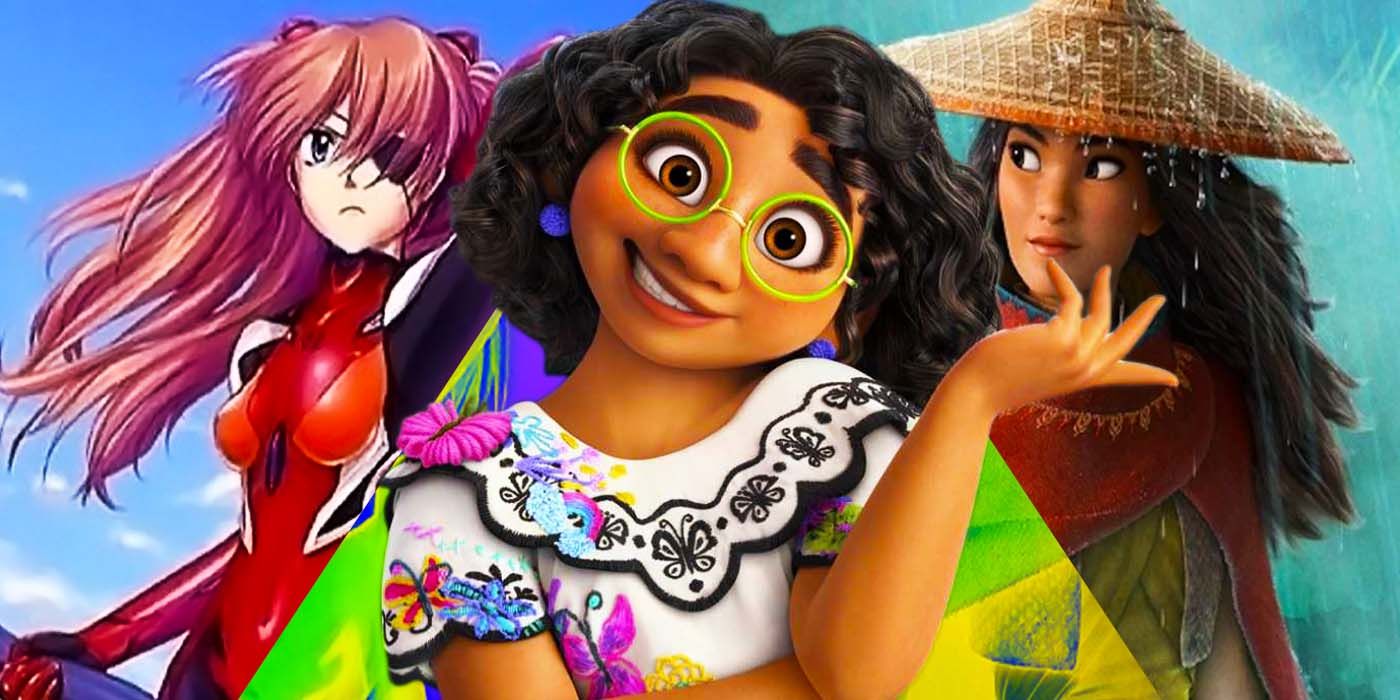 2021 saw a wide variety of animated movies being released in both theaters and to streaming, and these are the best animated movies of 2021. Just as with live-action films, animated films were heavily affected by the pandemic from very early on. While animation makes it easier for work to be done outside of an office, it still wasn't perfect, and many projects still had to deal with delays – in some cases, they even lost out on a theatrical release.
Nevertheless, 2021 still saw some great animated movies being released. Disney and Pixar had some quality movie releases as usual, but there were also some notable movies from Sony Pictures Animation and various anime studios. A lot of the movies were filled with good heart and good music, whether it was instrumentals or singing, and many of them featured truly stellar animation to behold.
Related: The Best Action Movies Of 2021
With 2022 in full swing, here is the list of some of the best animated movies of 2021. There were a lot of movies being released last year, and it was only possible to make time for, and resonate with, so many movies. As such, if a movie isn't on the list, that doesn't mean it wasn't a good movie, just that the ones on the list were preferred for one reason or another.
Vivo
Sony Pictures Animation's Vivo is a musical adventure about the titular kinkajou trying to honor the wish of his dead owner. The movie has a very likable cast and writing that knows how to invoke emotions at the right time without feeling manipulative. The soundtrack is also incredibly catchy and energetic, which makes sense, as the songs were written by Lin-Manuel Miranda, who also voices the titular Vivo. All in all, Vivo is a great time for anyone looking for a good musical kid's movie to watch.
My Hero Academia: World Heroes' Mission
The third My Hero Academia movie, My Hero Academia: World Heroes' Mission, puts Deku and his friends in their biggest adventure yet that sees them fighting to save the entire world. Just like the previous two movies, World Heroes' Mission features stunning animation and fight scenes to further enhance a story that encompasses the best aspects of the original series, in addition to a brilliant soundtrack from Yuki Hayashi. The movie isn't required viewing for the series by any means, but it's still a treat to behold, nonetheless.
Raya And The Last Dragon
Raya and the Last Dragon was one of Disney's first movies to move to streaming because of the pandemic, but it's still a great movie with a beautiful Southeast Asian aesthetic. The animation and visuals are some of the best Disney have put out lately, all in service of showcasing a unique fantasy world and a story about revenge and the power of trust. For anyone looking for a visually beautiful movie with great action scenes and a simple, yet engaging, story, Raya and the Last Dragon is perfect viewing.
Related: Raya And The Last Dragon's Message Contradicts A Classic Disney Trope
Luca
Just like Raya and the Last Dragon, the Pixar's Italian movie Luca had to be moved to streaming because of the pandemic, but it's still a good movie, nonetheless. The movie is much less profound and introspective than some of Pixar's other movies, especially its immediate predecessor Soul, but the simplicity of its coming-of-age story doesn't take away from the quality of it. Luca and Alberto's friendship and the struggles they go through are written in a way that makes it easy to get invested in their story, and, as such, the movie doesn't need to do anything complex to show that it has merit. Add in the usual high-quality art and animation of Pixar, and Luca is good, easy viewing for anyone.
Batman: Soul Of The Dragon
Unlike other DC animated movies, Batman: Soul of the Dragon is a completely original story starring Batman, Richard Dragon, Lady Shiva, and Bronze Tiger. The movie takes direct inspiration from kung fu movies of the '60s and '70s, the kinds of movies Bruce Lee would have been, and going right along with that, the movie features incredible fight choreography from start to finish. The actual story of the aforementioned characters trying to stop a demon from being released upon the world isn't anything particularly special, but the fight scenes alone definitely make it worth watching.
Words Bubble Up Like Soda Pop
Words Bubble Up Like Soda Pop is an anime rom-com by Studio Signal.MD, the same studio behind the Death Note manga's creators' newest series, Platinum End. The movie is about two kids with different forms of social anxiety learning to come out of their shells as they fall in love. The story is simple, but the execution is handled in a way that makes it easy to get sucked into the drama and root for everything to turn out all right. Not only that but the visuals and editing of the movie are all stunning and creative, and they all help elevate an otherwise simple story into a true visual spectacle.
The Mitchells vs. The Machines
After being delayed and sent to streaming due to the pandemic, and even going through a couple of name changes, The Mitchells vs. The Machines was released on Netflix in April 2021, and it was well worth the wait. Visually, the movie uses the same sort of stylized 3D animation that Spider-Man: Into the Spider-Verse used, and it adds to it with constant visual gimmicks that add a bit of surrealist charm to the movie. That surrealist vibe goes along well with the goofy plot of a phone app starting a robot apocalypse, and it all contrasts well with a down-to-earth story about a father trying to reconnect with his daughter whom he's long since fallen out of touch with. Family is the central theme of the movie, and the titular Mitchells are great at exemplifying that theme while all being entertaining in their own right.
Related: The Mitchells vs. The Machines: Every Easter Egg & Reference
Hilda And The Mountain King
Hilda and the Mountain King continues where season 2 of Hilda left off and follows Hilda's quest to turn herself back into a human after being turned into a troll. Just like the popular Netflix show, the movie features stunning visuals and music and a tearful, dreamlike story that elevates the source material to a tremendous degree. Everything great about Hilda is on full display in this movie, and it serves as a perfect entry into the series before its third and final season.
Demon Slayer: Mugen Train
Demon Slayer: Kimetsu no Yaiba saw its first season continued in the form of a movie, Demon Slayer: Mugen Train, and everything great about the anime is on full display in the movie. The music, visuals, and choreography are just as good as they were in the anime, if not even better, and the climax ends up being essentially twenty minutes of pure visual spectacle that's Ufotable at its best. Demon Slayer: Mugen Train is worth watching just for that, but the story is also good for highlighting the endurance of the human spirit, just like the anime, all of which comes to a head with everything done with Rengoku's character from start to finish. With all of that going for it, it's no wonder that the movie was one of the highest-grossing movies of 2020.
Evangelion: 3.0+1.0 Thrice Upon a Time
After numerous delays with both the movie and the franchise overall, the final Rebuild of Evangelion movie, Evangelion: 3.0+1.0 Thrice Upon a Time, was released. The movie is light on action and is mostly a character piece that also partially remakes End of Evangelion, and the character work done is phenomenal. All of the characters, both old and new, are given new depth and understanding that brings to a close not only their character arcs in the movies, but their arcs from the original Neon Genesis Evangelion, as well. The messages Hideaki Anno is trying to convey aren't the most subtle, but the meta-commentary on both the franchise and his views on life are handled so well that it doesn't even matter. Thrice Upon a Time can get a bit convoluted with its technobabble, especially near the end, but it still works as an amazing sendoff to the entire franchise, something perfectly encapsulated in the tagline, "Bye-bye, all of Evangelion."
Encanto
Encanto is the latest Disney movie, and it's easy to see it as one of their best in recent years. Just like Raya and the Last Dragon, the visual and technical aspects of the movie are both incredibly beautiful, but beyond that, the story is also great. The family drama of Encanto's Madrigal family is as entertaining to watch as it is hard, and the fact that they mostly stem from their personal issues as opposed to their magic powers—their powers mostly being used as a springboard to get their problems started—adds a touch of realism that not all Disney movies have. This is very fitting, considering the movie's magical realist roots. The result of all of that is a movie that's very much focused on the characters first, all of which add their own charm to the story, whether it be through dialogue or one of the many incredible songs peppered throughout the movie. All in all, the Disney movie Encanto is a wonderful experience and easily one of the best animated movies of 2021.
More: The Best Sci-Fi Movies Of 2021
1000-Lb Sisters: Amy Announces She's 12 Weeks Pregnant With Second Child
Share this news on your Fb,Twitter and Whatsapp
Times News Express – Breaking News Updates – Latest News Headlines
Times News Express||USA NEWS||WORLD NEWS||CELEBRITY NEWS||POLITICS||TOP STORIES