Movie/TV News
Bill & Ted Star Reacts To Newly Uncovered Easter Egg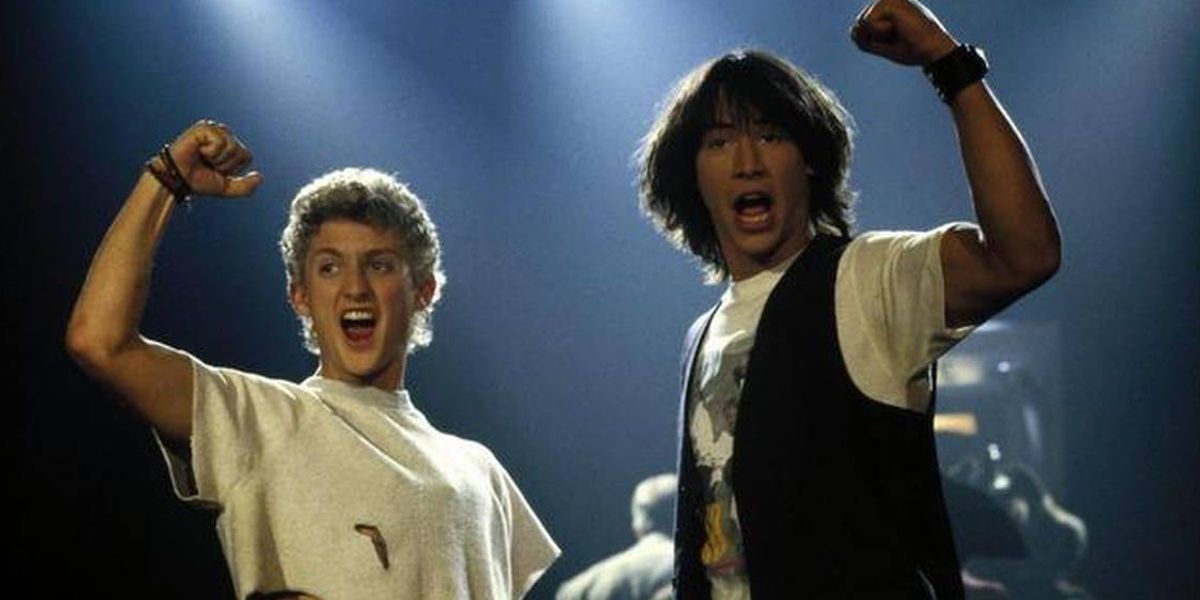 Bill & Ted's Excellent Adventure star, Alex Winter, recently took to social media to share his thoughts about a newly uncovered Easter Egg.
Bill & Ted's Excellent Adventure star Alex Winter reacted with surprise to a newly uncovered Easter Egg. The Stephen Herek-directed comedy, released in 1989, stars Winter as Bill S. Preston, a dim-witted high school student failing his history class along with his vapid best friend Ted "Theodore" Logan, portrayed by John Wick star Keanu Reeves. The comedy proved popular with critics and audiences alike, spawning two sequel films and two television series.
George Carlin stars as Rufus, a psychedelic time traveler from the future, tasked to lend a time machine to Bill and Ted to save the future of the world from itself by creating music so powerful that it leads to world peace. Rufus locates the titular duo at a Circle K convenience store in 1988, sending the partners on an adventure through time to find some of world history's most prominent figures. With moments to spare, Bill and Ted return to the present in their phone booth time machine to successfully deliver their oral history presentation, thus saving the world.
Related: Every Cameo In Bill & Ted Face The Music
Following a recent post on Reddit, Winter reacted to an Easter Egg uncovered thanks to Bill & Ted's Excellent Adventure's recent 4K home release. The post on r/MovieDetails by u/downwarddawg pointed out that the 4K resolution allows viewers to see that during a scene in the year 2688, The Great Ones are hovering above a miniature version of a Circle K store. Winter responded to a Shout! Factory tweet sharing the detail and claimed he did not know the prop in question. The actor tagged one of the movie's writers, Ed Solomon, who also admitted to not knowing about the Easter Egg. Winter assumes credit for the prop belongs to the film's production designer, Roy Forge Smith. Check out Winter's reply below.
This Highlights The Importance Of 4K Transfers
With no information given as to why the futuristic Great Ones sit above a mock Circle K, fans can only speculate as to its meaning. Likely, the meeting between Rufus, Bill, and Ted at the Circle K convenience store has been known for centuries. Future historians possibly pored over every detail of the world, saving rendezvous, memorizing and memorializing every last detail. This would include the very store where Rufus met the duo.
The Circle K Easter Egg may never have been known if the film had not given a 4K transfer. The higher-quality images offer greater resolutions than previous video formats and available streaming, and the transfer dramatically improves sound quality. This affords buyers the cleanest possible picture of their favorite films, enhancing the viewing experience. Along with spotting new details in movies, 4K transfers can help breathe new life into older movies by giving new generations a chance to experience classics in the best possible way. With Bill & Ted's Excellent Adventure's Circle K Easter Egg only now discovered over 30 years after the movie's release, what other details will fans find in the 4K transfers of their favorite films?
Next: Bill & Ted 3: Every Easter Egg & Reference In Face The Music
Source: Alex Winter, Reddit
Share this news on your Fb,Twitter and Whatsapp
Times News Express – Breaking News Updates – Latest News Headlines
Times News Express||USA NEWS||WORLD NEWS||CELEBRITY NEWS||POLITICS||TOP STORIES