Movie/TV News
Grey's Anatomy: April's 14 Best Episodes
The 10 Best Grey's Anatomy Episodes (So Far), Ranked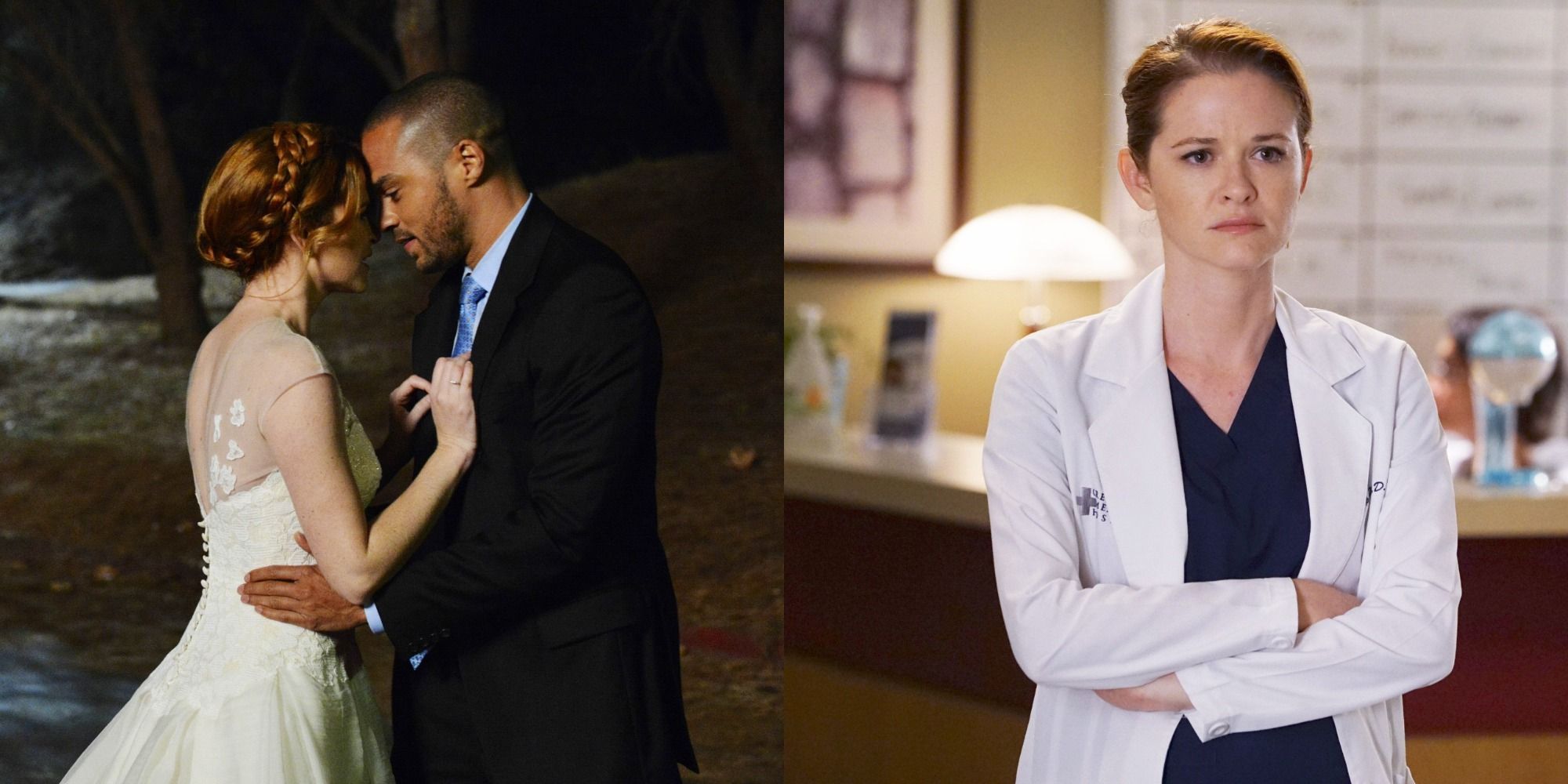 Content Warning: This article contains discussions of baby loss and grief
When fans first met Grey's Anatomy's April Kepner, there was a feeling she would be easily forgettable. However, she has one of the most intense storylines in the show, and fans saw her evolving from an insecure resident to an intense character, full of layers. She also had one of the most complicated romances in Grey's Anatomy with Jackson Avery.
RELATED: 10 Saddest Things About Grey's Anatomy's April
April Kepner is responsible for many unforgettable moments on the show, such as her children's birth and innovative surgeries. Grey's Anatomy knew how to use all the character's potential and also gave her the chance to have a happy ending. For fans who are still missing the read-haired doctor, there's no time like the present to revisit her best episodes.
Updated on December 27th, 2021, by Kayleigh Banks: Although it's been a while since fans saw April Kepner, there's a strong possibility that her departure with Jackson wasn't going to be the final time fans see her. With speculation that there could be another spin-off in the works, Ellen Pompeo has fueled these rumors even further by stating she would also love it if there could be a Jackson and April spinoff that followed their endeavors in Boston (via Insider).
Since many felt like April's story was cut short, a spinoff would not only give her some new plots but also many memorable episodes that would allow Sarah Drew to show her talents.     
Invasion – S6 Ep5
Making her entrance in "Invasion," fans first met April when she came in with the Mercy West residents during the hospital merger. Although she initially made a bad impression on the other Seattle Grace surgeons, particularly as she laughed at Reed disrespecting Izzie, she was one of the first people they warmed up to as April did seem to be a kind and friendly person.
It may not have involved a great storyline, but April's first episode did give fans a glimpse as to what type of character and person she was. The fact that she also seemed to get into a minor fight with Lexie implied that this rivalry could play an important part in future storylines too. It was certainly something fans were looking forward to.
All Of Me – S14 Ep24
While April did make one more guest appearance after this episode to close out Jackson's arc, "All Of Me" marked the end of April's journey on Grey's Anatomy. Here, it was revealed that she was leaving Grey Sloan Memorial with Matthew to help provide medical treatment for individuals without homes.
Although fans later learned that Matthew and April's relationship didn't work out, at the time this episode aired, they had been delighted that April was getting a happy ending. Her journey on Grey's Anatomy had been a tumultuous and arduous one so to see her find some form of happiness provided much comfort for fans. It was certainly a better sendoff than some of the other Grey's Anatomy characters receive.
Puttin' On The Ritz – S10 Ep4
When it came to her first four seasons on Grey's Anatomy, April didn't have many friends. Other than Jackson, the rest of the characters seemed to fairly mistreat her because she was too cheerful and happy. However, this all changed by "Puttin' On The Ritz" when Arizona and April bonded after they got drunk in one of the supply rooms.
Not only was this scene one of the funniest moments on the show but it also marked the beginning of one of Grey's Anatomy's best and most underrated friendships too. Jessica Capshaw and Sarah Drew had such good chemistry and always managed to make fans smile with their optimistic conversations. Since she and Jackson weren't on speaking terms, it was nice to see that April finally had another person she could rely on and talk to.
Cold As Ice – S14 Ep23
Over the course of the 18 seasons, fans have gotten used to seeing the main characters risk their lives or come close to dying. In "Cold As Ice," it was April who found herself on the operating table after the surgeons of Grey Sloan Memorial discovered that she had been in a horrific car crash with Matthew.
RELATED: 10 Things From Grey's Anatomy's Season 1 That Keep Getting Better Over Time 
With the news that Sarah Drew was departing the series after season 14, many fans were worried that they would be forced to say goodbye to another fan-favorite character as the show hadn't been afraid to kill main characters off before. Despite this, it was also quite endearing to see all the surgeons come together and refuse to give up on April, allowing viewers to see how much she had become a very important person in their lives.
Man On The Moon – S10 Ep10
It's no secret that April doesn't like confrontation as there had been several occasions where she had compromised on a decision or allowed others to get their own way. That is why it took fans by complete surprise when April called out her sisters for mistreating her when they were growing up and banned them from being bridesmaids ("Man On The Moon").
What made the episode even more iconic was April's bridal shower, where fans could see many improvised moments from the actors too. It was certainly a pivotal moment in April's character arc as it informed the viewers that she would no longer allow others to push her around.
The Me Nobody Knows – S12 Ep6
In the episode, "The Me Nobody Knows," April brings a boy from the Middle East to have surgery on his hands. Although Jackson agreed with the surgery before, he finds out April lied about how serious it was, and it was a reason for some stressful moments between them.
This episode is special because it provides insight into April's time in the army and the cases that she might have taken. The interactions between April and Kamal are heartwarming too as the viewers could tell that she was extremely passionate about the case and cared deeply about the patient's well-beings.
Moment Of Truth – S8 Ep21
Religion is a big part of April's life, and she had the intention to wait until getting married to lose her virginity. When her co-workers found out she was still a virgin, they tried to make fun of her, but she stood up for herself.
RELATED: 10 Things That Make No Sense About Meredith & Derek's Relationship On Grey's Anatomy
However, in the episode "Moment of Truth," she loses her virginity to Jackson and starts having a severe moral conflict, which would become a constant in her storyline. It is also the episode that marked the start of a complicated but endearing romance that changed April's life forever.
It Only Gets Much Worse – S13 Ep13
In the episode, "It Only Gets Much Worse," April has her first day as the Chief of General Surgery, and it is not easy at all. Of course, she has big shoes to fill since she is replacing Meredith Grey.
During the whole episode, fans see her struggling with her leadership skills, and her colleagues often question her decisions. It was one of the many moments in the show that the public saw Kepner face all her fear, especially because she never seemed much interested in leading a team.
Unbreak My Heart – S12 Ep11
Season 12's "Unbreak My Heart" is all about April and Jackson. They are one of the best couples in Grey's Anatomy so fans were touched to see how the episode was full of their best moments. However, it was soon replaced with a bittersweet feeling since it was obvious the producers were paving the way to their divorce.
While many fans were heartbroken that the writers seemed to be ending their romance after they fought so hard to be together, they soon got over this when April revealed a shocking secret. She was pregnant again with Jackson's child. The cliffhanger ending certainly had fans tuning in the following week as fans were curious as to how the new plotline would unfold.
Time Stops – S11 Ep24
April is an entirely different person after joining the army. The doctor no longer resembles that shy girl who was never strong enough to face challenges. In the episode "Time Stops," April tries to save a man stuck in his car after an accident. When Kepner notices he will die, she finds a way to bring the car to the hospital's door so she has all supports she needs.
RELATED: Grey's Anatomy Characters & Their Disney Counterparts
The doctors leaving the hospital and seeing April standing on a flatbed tow truck is one of her most remarkable scenes. Despite all the others believing the man would likely die, fans thought it was quite admirable that she refused to give up until they did everything they could. It was also quite an innovative and creative surgery that hadn't been learned in the hospital, which implied that April had improved her surgical skills in the field. It was something fans looked forward to seeing more of in the future.
Get Up, Stand Up – S10 Ep12
Fans are aware that there isn't such a thing as a "normal wedding" in Grey's Anatomy. The episode "Get Up, Stand Up" focuses on April and Matthew's wedding, and the bride is completely overwhelmed with stress. Kepner is also distraught because her bridesmaids are more worried about their problems than helping her to have a special day.
Of course, what fans remember of this episode is the final minutes when Jackson stopped the wedding and ran away together. As said before, their romance was never something simple but it was one that had everyone talking for weeks after.
Family Affair – S10 Ep12
In the episode "Family Affairs," April Kepner has her second baby. Just like weddings, there isn't such a thing as drama-free deliveries on Grey's Anatomy. In the season 12 finale, she was supposed to be Owen's best man, but she goes into labor when she goes to pick up the rings in Meredith's house.
Kepner proves once again that she is not afraid of anything. She asks Ben to perform a C-section on the kitchen table and says her priority is the baby in case he has to choose between them. There is no anesthesia or proper equipment in the house, and it was one of the most intense episodes with April and Ben.
One Day Like This – S14 Ep17
April Kepner started as a religious character, but her faith crumbled when he lost a patient, and she also starts to lose track of her life. In the episode "One Day Like This" she treats a rabbi and, at some point, they have a touching conversation about faith.
This was one of the most inspiring and heartbreaking moments in season 14. While it did look like April was going to get her life back on track, it deeply upset fans that Eli was going to die since he seemed like a kind and considerate man. Unsurprisingly, April remained at his side, comforting and consoling him in his final moments as he sadly passed. It was certainly one of the most tragic patient deaths on Grey's Anatomy.
All I Could Do Was Cry – S11 Ep11
One of the most tearful moments of the show was the death of Samuel, Jack, and April's first son. During the pregnancy, the couple found out the baby had Type 2 Osteogenesis Imperfecta, and he died shortly after the birth.
In the episode, "All I Could do Was Cry," fans watch the devastated parents saying goodbye to their son. It was also a moment everything changed for them, and both had different ways to cope with their grief.
Share this news on your Fb,Twitter and Whatsapp
Times News Express – Breaking News Updates – Latest News Headlines
Times News Express||USA NEWS||WORLD NEWS||CELEBRITY NEWS||POLITICS||TOP STORIES