Movie/TV News
House Of The Dragon Star On Whether Criston Cole Still Loves Rhaenyra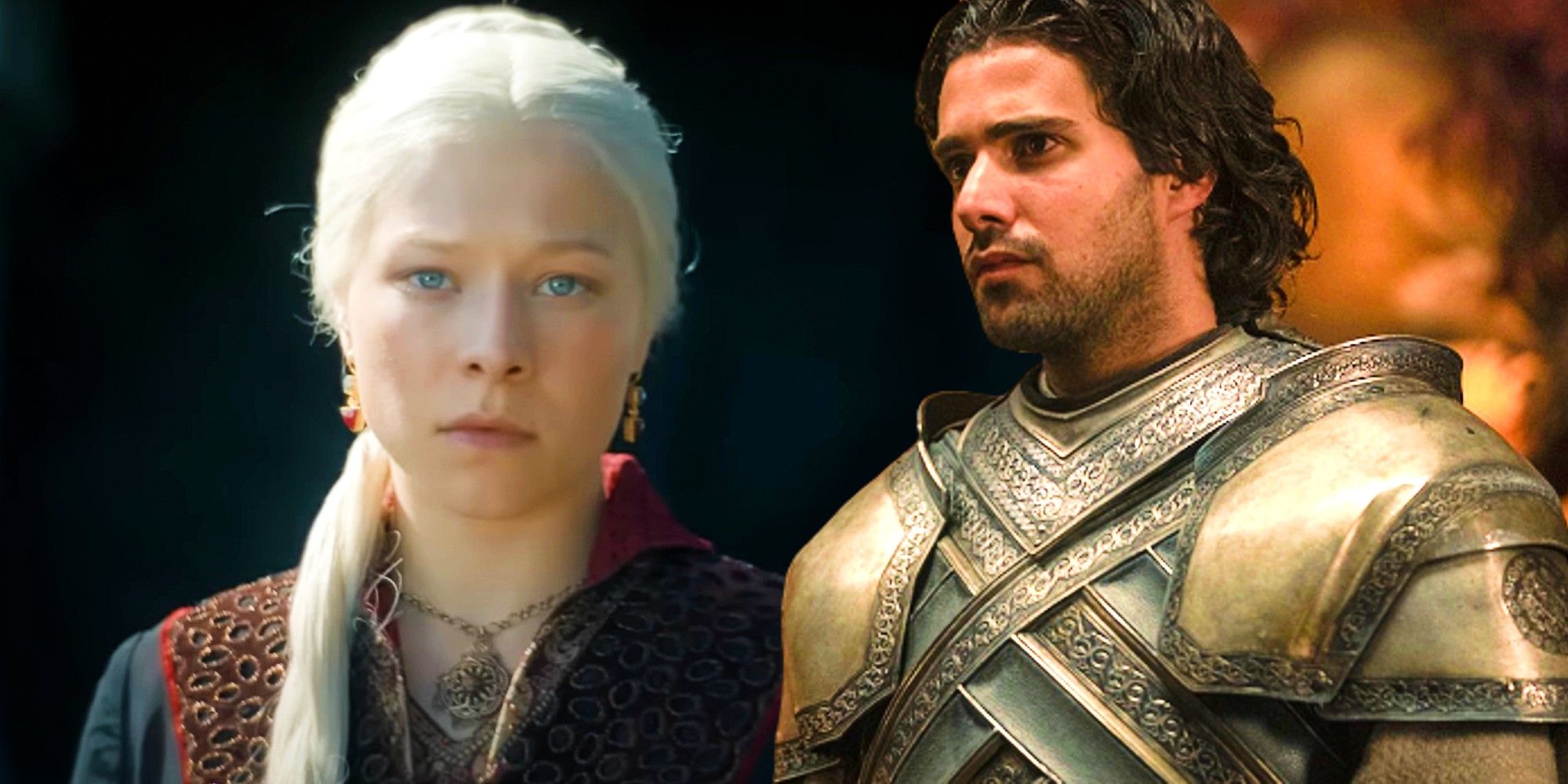 House of the Dragon star Fabien Frankel believes that tarnished Knight and Queen protector, Ser Criston Cole, is still in love with Princess Rhaenyra.
House of the Dragon star Fabien Frankel believes that tarnished Knight and Queen protector, Ser Criston Cole, is still in love with Princess Rhaenyra Targaryen despite his shifting loyalties to Alicent Hightower and the council of Greens. AT the beginning off House of the Dragon, Ser Criston was introduced as one of the realm's only Knights to have seen proper military service, impressing the young Princess Rhaenyra with his tournament skills and honorable manner. The two became close following Ser Criston being assigned to the King's Guard, with Rhaenyra choosing to confide in the Knight concerning her insecurities about her as the queen of Westeros.
What appeared to be a blossoming romance between Rhaenyra Criston peaked during House of the Dragon season 1, episode 4, after Rhaenyra was unceremoniously abandoned in King's Landing's Street of Silk by her uncle Daemon Targaryen, and once again turned to Cole for companionship. The two lay together in what appeared a night of claiming agency and enjoying forbidden passions for the young Rhaenyra, while Cole perhaps became overly besotted by his charge. Outraged by Rhaenyra declining his offer to flee from the throne and responsibility in the wake of their night together, and deeply ashamed of breaking his vows of chastity, Cole's eruption of violence at Rhaenyra's wedding leads him to the services of Alicent, beginning a vengeful partnership against Rhaenyra.
Related: House Of The Dragon Season 1 Finale Trailer Breakdown: All Ep 10 Reveals
Nearly two in-world decades have passed in the series since Rhaenyra and Ser Criston indulged in their attraction for one another, though Fabien Frankel states to NYT his belief that his character is still in love with the Princess despite his shifted loyalties. The Queen protector has had only derogatory words for the Princess since her wedding and Frankel's suggestion of a lasting love within Ser Criston is certainly presented as a twisted one. See what the star had to say below:
First love is first love. I think everyone will always love the person that they fell in love with for the first time. From the first time you hear a beautiful piece of music, you'll always love it, even if you've heard it a hundred times, because you remember that first time you heard it. So yeah, he will always love Rhaenyra.
Ser Criston Is Establishing Himself As One Of HOTD's Biggest Villains
It is strange to think back to House of the Dragon's opening episodes and imagine Ser Criston as the noble white knight he appeared to be. His growing relationship with Alicent following the fallout of his cold-blooded murder of Joffrey Lonmouth and damnation of Rhaenyra, has seen the Queen Protector abuse his power to fight her petty battles. Sedition fueled by jealousy in questioning the bloodline of Rhaenyra's children and further outright murder within the small council are but two of his most notable crimes, with the murder of Lord Beesbury in the most recent episode a startling revelation.
If Ser Criston holds anything still close to love for Rhaenyra, it appears to have been twisted and polluted beyond recognition. His frequent emotional outbursts, blind hypocrisy, and refusal to accept responsibility have made Ser Criston perhaps one of the biggest villains in House of the Dragon. It is hard to deny that Ser Criston seems to be acting out of what he considers to be honor, loyalty, and righteousness aligned with the crown, but ultimately his actions within the series continue to emphasize that jealousy and vengeance are his core reasons to stand against Rhaenyra. The dramatic switch between Daemon being presented as the most morally murky and untrustworthy figure within the series compared to Criston and his surpassing Daemon's crimes is a classic subversion of expectation and perfectly adds to the drama leading into the season finale.
Source: The New York Times
Next: House Of The Dragon Ep 9 Continues 1 Big GOT Tradition (& Breaks Another)
Share this news on your Fb,Twitter and Whatsapp
Times News Express – Breaking News Updates – Latest News Headlines
Times News Express||USA NEWS||WORLD NEWS||CELEBRITY NEWS||POLITICS||TOP STORIES