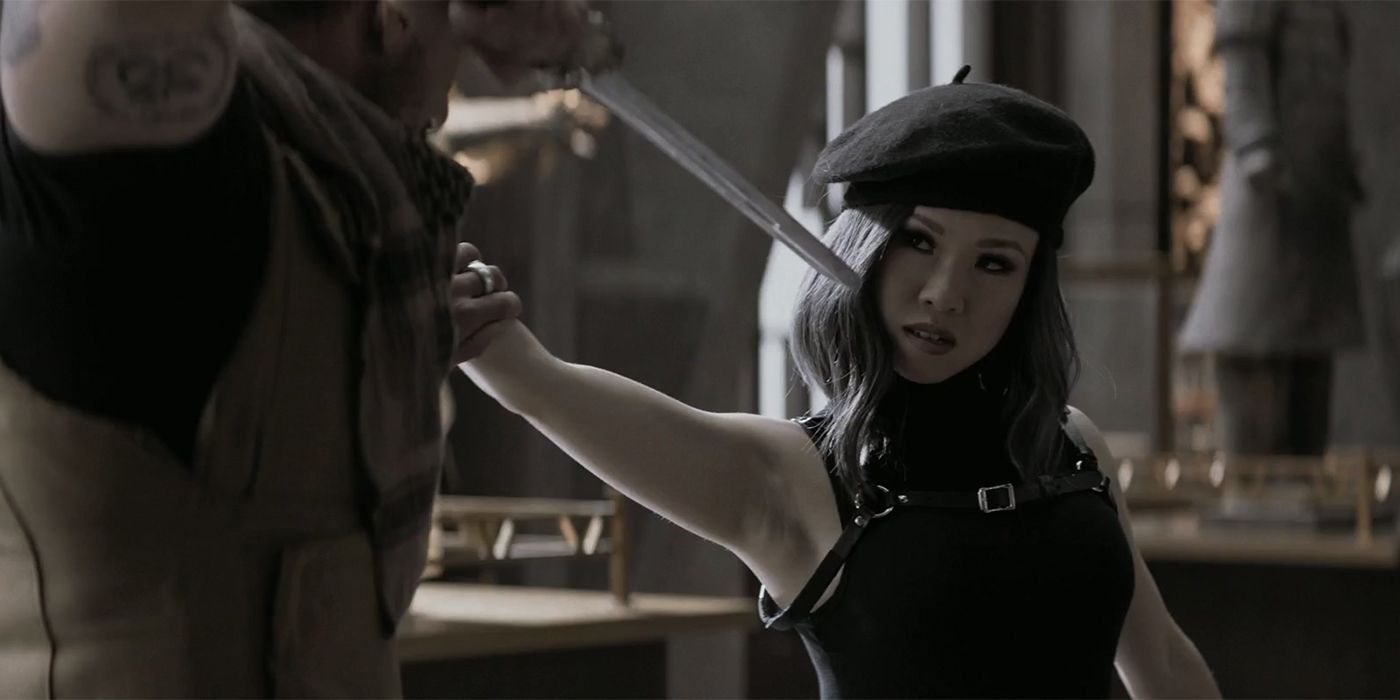 Actress Selina Lo chats about perfecting her fight scenes in her upcoming action thriller, Boss Level, coming to Hulu on March 5.
Boss Level, which lands on Hulu's streaming service March 5, is the latest film from the mind of writer-director Joe Carnahan (The Blacklist) and the WarParty Films production company he started with actor Frank Grillo (Avengers: Endgame). The action comedy mixes sci-fi with family drama to obtain a lot of blood, laughs and heart.
Roy Pulver (Grillo) wakes up to a Groundhog Day-esque scenario of repeating the same day until he's killed in all manner of crazy ways, oftentimes by the mischievous assassin Guan Yin (Selina Lo). Getting to the heart of who is behind everything might restart his time, but first he has to win back the hearts of his wife and son.
Related: Boss Level Trailer: Frank Grillo Is Stuck In Deadly Time Loop
Lo spoke to Screen Rant about getting the role, preparing for the physical side of the role, and the atmosphere on set with Carnahan leading the charge.
How did you become involved in the project?
Selina Lo: I was actually shooting a miniseries [Q8 Unleashed] at the time when I received this script. I was going to take a couple of days, because I was filming and it was hectic, to read it. I remember getting into bed because I was so tired, I started reading it, and I could not put it down.

It was the most hilarious script, but with heart, that I ever read. I remember the next day for filming, I just had these terrible bags under my eyes. So, then I put down a self-tape, and it was Zoom interviews and whatnot.
The film is clearly doesn't take itself seriously, and yet it has serious things to say. What was the aspect of it that stood out most to you about the characters or the theme?
Selina Lo: I think it was all of that. I mean, it's such incredible writing. On the surface, it's this hilarious, larger-than-life action comedy. But at the core of it, it's a really touching story about a man who is in this unfortunate predicament, where he's basically getting killed every day and needs to figure out why. But he's using that situation in order to reconnect with his ex-wife and his son, who actually was played by Frank Grillo's real son.
What was it like for the two of you getting to replay your fight scenes? What was it like to work with Frank Grillo, and how much did you choreograph it? Was there any improv in how things change from one moment to the next?
Selina Lo: I was out in Atlanta ahead of time for training, and we had an incredible stunt team and choreographers. They had set things in place, and then I've also got a background in martial arts, so I could suggest things. But generally, it was just a lot of rehearsal, and a lot of bruises.
We only get to see one day in the life of Guan Yin, but did you talk with Joe Carnahan, or even think to yourself, where she's come from and what she did the day before?
Selina Lo: Whenever I get a character, I like to create a full backstory, so I'm just really comfortable and I can know how she would act in any situation. My little backstory was that she actually really wanted to be an actress, but was just horrible. It just turns out that she's really good at the whole killing people, violence, martial arts thing. So, she essentially becomes an assassin. And for her, that's her moment in the spotlight.

You've seen the film. If you notice, at the end of each kill, she finds the camera. And what's really funny is that, the first time we did this, Joe was like, "Let's bring in a fan." And so every time I speak, for no reason, there's a fan going through my hair.

She's a little crazy, but just so much fun. She's like, "I can kill people and look good."
Obviously, you had a lot of fun playing the villain. But how different was this for you from previous roles, especially the physical aspect of it?
Selina Lo: Well, what was fun with this role was that Joe was very generous and basically said, "Feel free to improv." So, a lot of the lines would be, like, either I've just thrown them out there or Joe's thrown a line at me and I'd try that. That was a really fun way to work, where it wasn't so set, and you just have that freedom to bring yourself to it.

When I initially read for it, she was Asian and had an Asian accent. Then when I came onboard, Joe was like, "I want you to bring some of you and some of your humor and keep your accent," and that was great. That was different and a cool approach.
If you had to repeat one day – just as Roy spends it reconnecting with his son, even when he's avoiding getting murdered – how would you spend your one day?
Selina Lo: I was gonna say maybe she would have invested in acting classes, because she'd want to be an actress. But I think she's pretty happy with what she's doing now. I think she just gets a real kick out of it and enjoys it.
With Joe as the director, writer and producer, what is it like to watch him wear all those hats?
Selina Lo: I was just a huge fan of Joe initially, that was a big draw to the project. His body of work is incredible, and he's actually become one of my favorite people on the planet. Aside from the fact that he's a genius, he's fundamentally just one of the best human beings that I know. And the fact that he has this incredible talent with directing, but also writing and producing. I can't say enough good things about him.

And he just made it so fun on set. He would blast the coolest tracks that I've never even heard of before during the action scenes. It just helps you really get into character, and you just feel like, "Yeah, I'm a badass! I can do this. I can just murder all day long." Not that I condone murder in any way, shape, or form.
How long ago was this actually filmed? Because I remember there was a screening of it about a year ago.
Selina Lo: Yeah, it's like a year and a half. Maybe a little over that. So, it was tricky because of COVID and everything. It was initially supposed to have a theatrical release, but then things have changed so much. And now streaming has completely taken over; everyone's at home.

I'm so happy that Boss Level has found a home with Hulu, because they create such great stuff like Palm Springs and The Handmaid's Tale. I'm excited to be able to see it, and it's great because I feel like it's also going to get more people watching it. And everyone worked so hard, so I'm glad it's got a home.
What's coming up next for you? Are you able to do anything in the COVID times?
Selina Lo: I had a couple movies pushed, and then I'm still casting, but we're hoping that those are going to go later this year. It's an interesting time. Mainly, I'm just at home alone with my fish. I recently started taking up collecting fish.
More: The 10 Most-Anticipated Sci-Fi Movies Of 2021
Boss Level premieres through Hulu on March 5.
90 Day Fiancé: Natalie Allegedly Leaks A Shot From Tell All With Mike
About The Author
Share this news on your Fb,Twitter and Whatsapp