Movie/TV News
Tatiana Maslany Campaigns for She-Hulk's MCU Return In Daredevil Reboot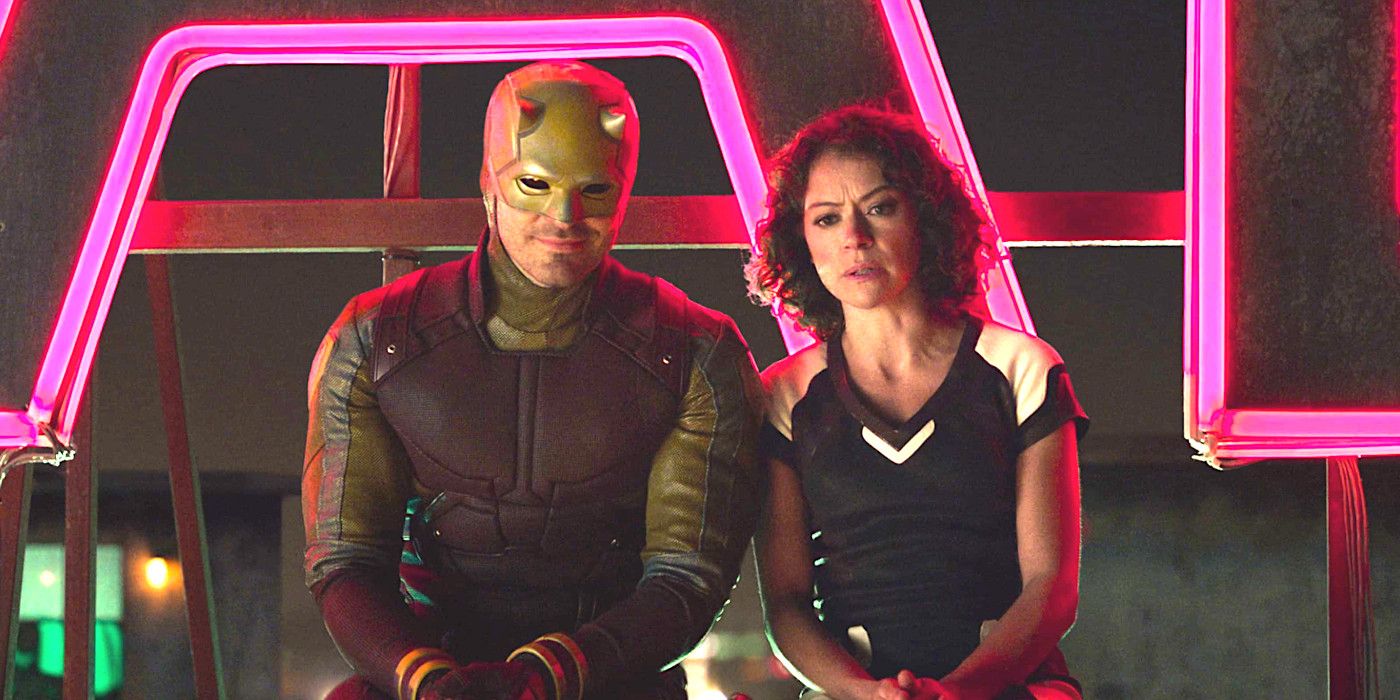 She-Hulk: Attorney at Law star Tatiana Maslany lobbies to return as Jennifer Walters in the upcoming Daredevil: Born Again reboot series.
Tatiana Maslany campaigns to return as She-Hulk in the upcoming Daredevil reboot show. Jennifer Walters recently made her auspicious MCU debut on the Disney+ show She-Hulk: Attorney at Law. The show also brought in some other very intriguing Marvel characters, including former Netflix star Daredevil.
Fans were certainly hyped to learn from an early trailer that Charlie Cox would be reprising the role of Matt Murdock/Daredevil on She-Hulk. And She-Hulk indeed milked that hype for all it was worth, holding Daredevil back until episode 8. But when Daredevil finally did arrive, all that suspense paid off with a great episode pitting Murdock and Walters against each other in court, then bringing them together as superhero allies and even intimate partners.
Related: She-Hulk and Daredevil Are Great Together
Now the big question is whether She-Hulk will re-team with Daredevil when the latter suits up for his own Disney+ series, officially titled Daredevil: Born Again. For her part, Jennifer Walters actor Maslany is definitely on board with returning for another round of action (of all varieties) with Daredevil. Maslany in fact is openly lobbying to appear in the Daredevil reboot, as she revealed in an interview with THR. See her remarks in the space below:
I keep texting [Charlie Cox] being like, "Am I required for set today?" And he says, "We'll let you know by lunch." But he just keeps putting it off. I've been waiting outside the set in my She-Hulk costume, so just put me in, coach.
Could She-Hulk Return in MCU's Daredevil: Born Again?
Nothing has been confirmed thus far when it comes to She-Hulk's possible return on Daredevil: Born Again. Maslany for her part has talked about what happens to Jen Walters after the events of She-Hulk: Attorney at Law season 1, teasing that her life is "opening up" and talking about the "real connection" between Jen and Matt Murdock. Murdock actor Cox too has addressed the possibility of reuniting with Maslany on Daredevil: Born Again, saying he would be a "huge supporter" of She-Hulk appearing on the show. Both actors have talked about what an ongoing She-Hulk/Daredevil relationship might look like, with Maslany suggesting they are "at the beginning of something" and Cox saying maybe they could get together for "a vacation fling."
It's of course impossible to guess what plans are for Daredevil: Born Again and a possible She-Hulk appearance. But fan response to Jen Walters and Matt Murdock's pairing on She-Hulk was incredibly positive, which bodes well for the two reuniting down the road. Kevin Feige and company certainly know a good thing when they see it, and the fun chemistry between Maslany and Cox was undoubtedly a highlight of She-Hulk. At the same time, Daredevil is his own character with his own well-established history, and many fans likely would prefer that the highly-anticipated Daredevil reboot focus on Murdock's signature exploits and not make the show all about his relationship with Walters. But if Feige and Marvel do decide to go back to the She-Hulk/Daredevil well, Maslany sounds like she is ready and willing to don her costume once again.
Next: She-Hulk's Daredevil Cameo Fixes Marvel's Weird Missed Opportunity
Source: THR
Share this news on your Fb,Twitter and Whatsapp
Times News Express – Breaking News Updates – Latest News Headlines
Times News Express||USA NEWS||WORLD NEWS||CELEBRITY NEWS||POLITICS||TOP STORIES