Movie/TV News
The Boys' A-Train Twist Makes His Redemption Even Better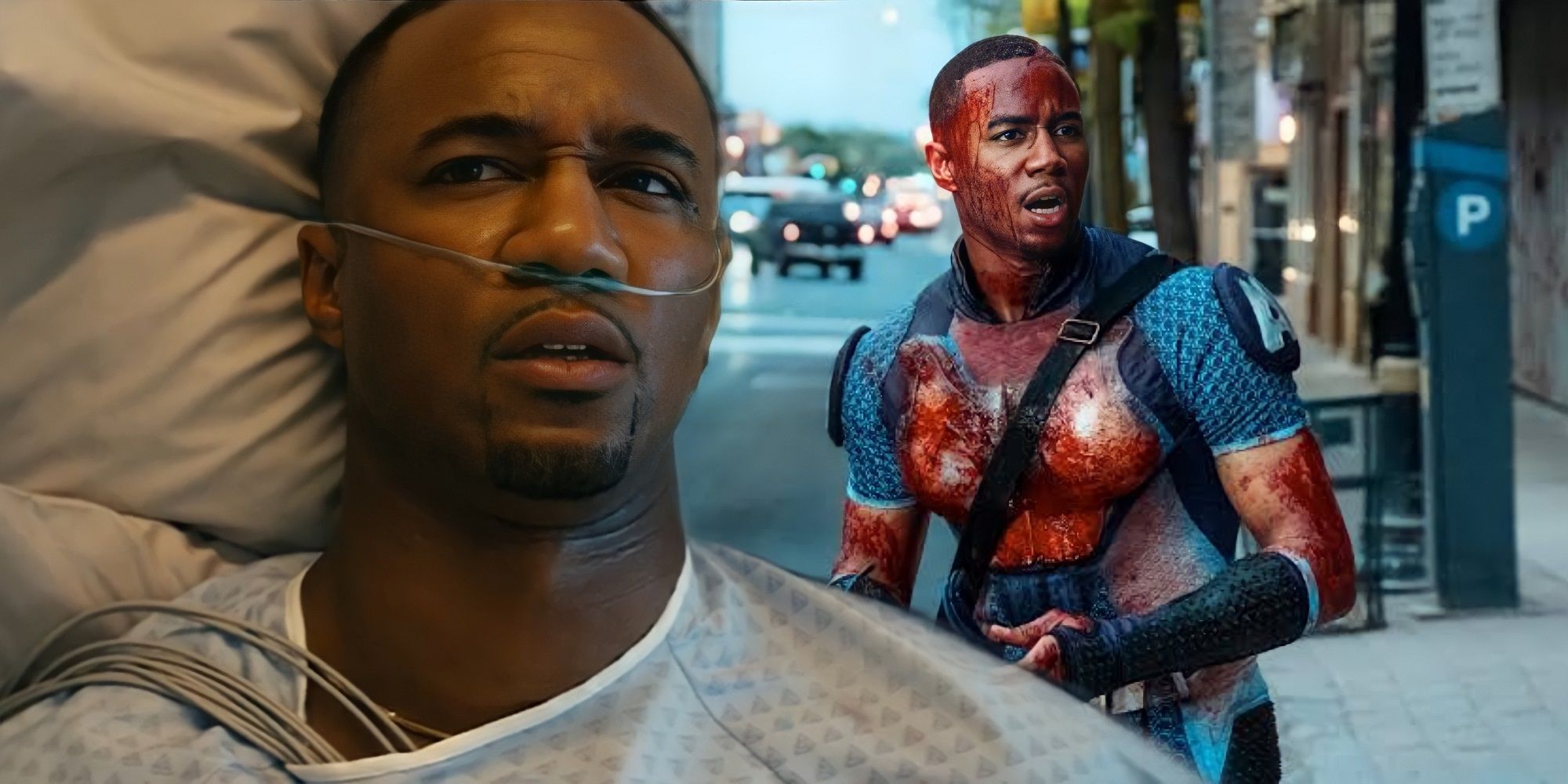 A-Train brushes with doom all over again in The Boys season 3, but this time around, his near-death experience promises an exciting redemption arc.
Warning! SPOILERS for The Boys season 3.
A-Train's heart attack in season 3, episode 6, "Herogasm," brings a full circle to his redemption arc, but The Boys' episode 7 makes this redemption even more interesting by revealing he is still alive. Akin to most other supes, A-Train's morals have almost always been on the wrong side of the spectrum. However, his temporary exclusion from the Seven and encounter with Blue Hawk's hypocrisy have forced him to step back from his supe ego and for once reflect upon his self-inflicted pitfalls.
From the very beginning, A-Train showed no qualms about his wrongdoings. When he killed Hughie's girlfriend, he casually brushed it off as an accident. Despite being unanimously eradicated from the Seven soon after, he still buckled at Homelander's will and also joined The Boys' Church of the Collective to find his way back to the Seven. After being in dire straits for two whole seasons, A-Train reaches the end of his wits when Blue Hawk's bigoted fury sends his brother to the hospital. Blue Hawk's pretense makes his blood boil not only because it harms his brother, but also because it mirrors his own unapologetic and hollow outlook toward non-supe folks. In an attempt to seek revenge and redeem himself, A-Train drags Blue Hawk to death – only to fall to the ground moments later, with his heart giving in to his super speed.
RELATED: The Boys Season 3 Confirms 2 MAJOR Homelander Origin Details
A-Train's final moments in episode 6 bring an almost perfect conclusion to his storyline. His super speed, which killed innocents in the past, now becomes his own redeeming death sentence. However, The Boys season 3, episode 7 throws a curveball by showing that A-Train has survived yet another heart attack, with Blue Hawk's supe heart now beating in his chest. This twist is symbolic in the sense that it represents A-Train's change of heart toward the end of episode 6. Before ruthlessly hauling Blue Hawk across the boulevard, the speedster learns to acknowledge his sins, gives Hughie a hearty apology, and then sacrifices his corrupted Compound V-fueled heart with one final run to ultimately emerge as a transformed hero. Like Starlight, he now seems more aware of his responsibilities as a supe, and this change in his characterization makes his redemption so much better.
What A-Train's Redemption Means For The Boys
Even from a storytelling standpoint, A-Train's catharsis seems to be in tandem with the recent developments in The Boys' overarching narrative. Episode 7's ending suggests that a Homelander-Soldier Boy team-up is now possibly underway. Considering how Hughie, Butcher, and Soldier Boy together could not hold Homelander down, Homelander and Soldier Boy's father-son collaboration would prove to be an invincible force to be reckoned with. To have the slightest odds of winning against them in season 3's potential climactic battle, many reformed supes like A-Train and Starlight will have to join forces. Even if Homelander's next encounter with Soldier Boy is not all sunshine and rainbows, Butcher will need strong supes like A-Train on his team to overpower the flag-caped antihero. All in all, from here on out, A-Train's redemption only gets more interesting.
Being a typical morally ambiguous supe has always been a losing battle for A-Train. Tipping off on the good side may not be all beer and skittles, but it will give him the opportunity to make amends with his family. Now that temporary Compound V, dubbed "V-24," is out of the picture because of its side effects, it is likely that Butcher's gang will go back to plotting against Vought, while reformed supes like A-Train and Starlight will do the grounding and pounding. Unless, of course, The Boys has even bigger twists in store.
MORE: He Lost, But The Boys' Herogasm Fight Made Homelander Even Scarier
The Boys continues Friday on Prime Video.
Henry Cavill As Wolverine Looks Like A Horror Movie Villain
About The Author
Share this news on your Fb,Twitter and Whatsapp
Times News Express – Breaking News Updates – Latest News Headlines
Times News Express||USA NEWS||WORLD NEWS||CELEBRITY NEWS||POLITICS||TOP STORIES