Movie/TV News
The Real Housewives of New York: 8 Must-Know Facts About The 2023 Cast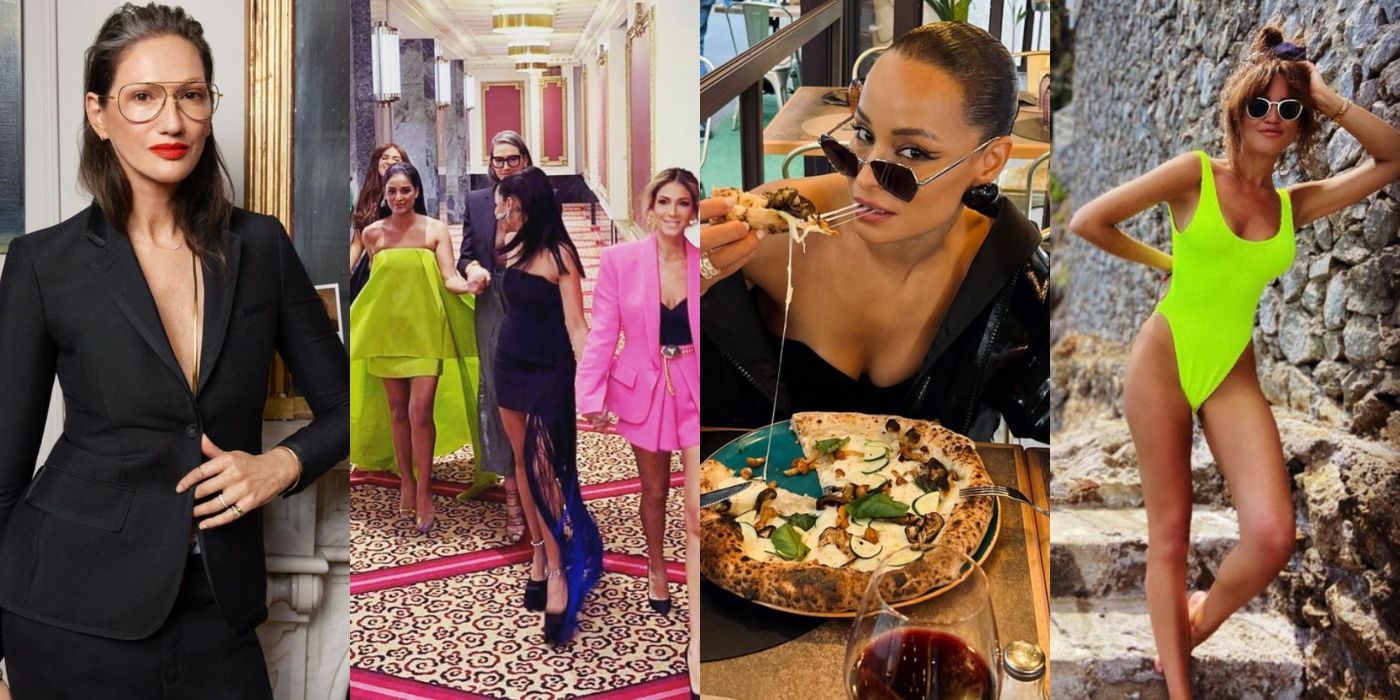 BravoCon dropped plenty of bombshells over its three-day extravaganza, but the biggest news that was revealed was on a live taping of Andy Cohen's Watch What Happens Live. Andy promised audiences a surprise announcement during the show that would get The Real Housewives fans excited, and he did not disappoint.
On stage, Andy revealed that The Real Housewives of New York City was coming back to Bravo for season 14 with a completely new cast. What's more, he had the new cast come out on stage for fans to see for themselves. After a disappointing few seasons on RHONY with lackluster storylines, dated points of view, and the same faces, Bravo gave RHONY a facelift and fans cannot wait to see what a fresh take in the Big Apple will be like.
Welcome The Brand New Cast
There have been some amazing past Housewives on RHONY, including the likes of Jill Zarin, Bethenny Frankel, and Dorinda Medley. And for now, it looks like season 13's cast will be a part of those former iconic Housewives because Bravo has a fresh new cast for season 14.
RELATED: Ranking Each Past Housewife Of The Real Housewives Of New York
According to Bravo, the new Housewives are Sai De Silva, Brynn Whitfield, Ubah Hassan, Jenna Lyons, Erin Lichy, Jessel Taank, and Lizzy Savetsky. Each woman ranges in age, career, lifestyle, and even different neighborhood's of New York — something that wasn't always appreciated or shown in earlier seasons.
Women On A Mission
While fans will miss the likes of Luann de Lesseps and Sonja Morgan, it will be refreshing to see new women and what their missions are living in New York City. There are countless memorable moments on the RHONY franchise, but fans are eager to see more of the home-to-work ratio for these new Housewives.
Thankfully, the season 14 cast has an assortment of different career paths and ways of life, which will round out the season. According to Bravo, Sai De Silva is the "creative director of Scout The City." Erin Dana Lichy is a realtor and has her own company called Homegirl, which focuses on "home renovation and design." Ubah Hassan is a well-known model and business owner who founded her own hot sauce company called UBAHHOT.​​​ Jessel Taank is a fashion publicist, Brynn Whitfield works in communications and marketing, Lizzy Savetsky is an influencer and activist, and Jenna Lyons is the co-founder and CEO of LoveSeen.
Firsts For RHONY
The Housewives with the longest run all tend to have things in common: they're successful, outspoken, and have a complex or interesting home life. But what's cool about a few of the new members of RHONY are the boundaries they've already broken for the franchise.
Season 14 of RHONY will have its first openly queer Housewife and Indian Housewife. Them explained that Lyons identifies as queer, and while there have been queer Housewives in the past, she's the first for the New York franchise. In 2021, Lyons told The Cut, "I still don't know: Am I gay, am I bi? I don't know if it really matters." Another Housewife breaking the glass ceiling is Jessel Taank. Jessel will be RHONY's first Housewife of Indian descent, according to Women's Health, who will only add more culture and diversity to the cast.
Jenna Lyons Is The Head Woman In Charge
While all the new Housewives seem amazing on paper and have accomplished so much in a tough city, it's Jenna Lyons that New Yorkers and fashionistas were most familiar with.
According to Variety, Lyons is now CEO of the beauty brand LoveSeen, but she was once the president and executive creative director of J.Crew Group. She has been in the fashion industry since the '90s and has become a fashion mogul herself after working with J. Crew for years. Business of Fashion even noted that Lyons was named one of Time Magazine's "100 Most Influential People." Between her fashion sense and business expertise, she's the one to watch for RHONY fans.
Did The Cast Start Filming?
With New York City being a large city that fans of RHONY can actually visit and tour themselves, many can't wait to see when the new cast starts filming. (Not to mention seeing where the cast films and what the new hot spots in the Big Apple will be).
RELATED: 10 Filming Locations The Real Housewives of New York Fans Can Visit
Deadline explained that shooting for season 14 is approaching and Bravo plans on filming this fall. According to Slice, seasons are typically filmed within three to six months, depending. This would mean Bravo fans will see New York in the fall and possibly some holiday-themed parties.
Get Ready For Next Year
The Real Housewives of New York City hasn't been on since 2021, and countless fans have felt lost without this beloved franchise. But it looks like viewers are going to have to wait a little longer because if Bravo is filming the women in the fall, this would mean a 2023 release date.
Considering how high the stakes are for Bravo to get season 14 right, the more time to work on it the better. There was a reason why the early seasons of RHONY were so magical, and Bravo wants to bring that magical spirit of New York back to screens.
Season 14 Will Better Reflect The City
Housewives like Bethenny Frankel were loved by fans because she was relatable. In season 1, she barely had anything to her name but after working hard for years she created her own business and became a self-made millionaire.
From living in a tiny one-bedroom apartment in the city to owning a home in the Hamptons, Bethenny's glow-up was inspiring for viewers. This kind of lifestyle, however, has changed over the years on RHONY. Nowadays, many of the Housewives that were added were already well-established, with most living on the Upper East Side. With so many avenues in New York, this seemed short-sided. Bravo (via the Hollywood Reporter) has changed this for season 14, writing, "An all-new group of seven dynamic women who run in the same social circles, thriving in one of the most diverse and electric cities in the world. From fashion and real estate, to philanthropy and social influence, these women have made their mark in NYC and will now share their lives as they juggle careers, family life and jam-packed social calendars in the city that never sleeps."
What Will Become Of RHONY's Former Cast?
From the little fans know about RHONY's new cast, longtime Real Housewives fans are dying to know what this means for long-term cast members Ramona Singer, LuAnn de Lesseps, and Sonja Morgan.
Knowing how loved the OGs of New York are, Andy Cohen announced that along with a new RHONY cast, there will also be a spinoff loosely titled RHONY: Legacies. At BravoCon '22, Cohen said, "I think that our plan is actually brilliant because we're allowing people to not only get an entirely new reboot of The Real Housewives of New York, where we're going to be telling new stories outside of this little postage stamp area on the Upper East Side from these women that we've been following for however many years." He finished by saying, "I think it's the best of all possible worlds for RHONY fans." What's more, Bravo recently just finished filming a spinoff starring Luann and Sonja called Welcome to Crappie Lake. Deadline noted the series will release in 2023 and show Luann and Sonja trying to navigate life in a small town.
NEXT: 5 Times Fans Supported Sonja (& 5 Times She Went Too Far) On The Real Housewives Of New York
Share this news on your Fb,Twitter and Whatsapp
Times News Express – Breaking News Updates – Latest News Headlines
Times News Express||USA NEWS||WORLD NEWS||CELEBRITY NEWS||POLITICS||TOP STORIES