ENTERTAINMENT
Top Gun: Maverick's new-generation cast on why they think the sequel is a success
Who needs a wingman (or wingwoman) when you can have an entire crew?
Tom Cruise is spoilt for choice in the highly anticipated sequel, Top Gun: Maverick, with up-and-coming stars Miles Teller, Glen Powell, Danny Ramirez, Tarzan Davis, Jay Ellis, Lewis Pullman and Monica Barbaro – the first-ever female fighter pilot in the franchise – setting flight.
READ MORE: Woman's controversial revenge against ex who chose his career over her
The new-generation pilots learn the ropes from Cruise's Lieutenant Pete "Maverick" Mitchell, who returns to the academy to teach the new class everything he knows in order to accomplish a near-impossible stealth mission.
The result is an action-packed, adrenaline-filled film that will feed your need for speed. The sequel is released on May 26, but advance screenings have already garnered rave reviews – and the young cast tell 9Honey Celebrity exactly why the film is a hit.
READ MORE: Why is Kelly McGillis not in the latest Top Gun sequel?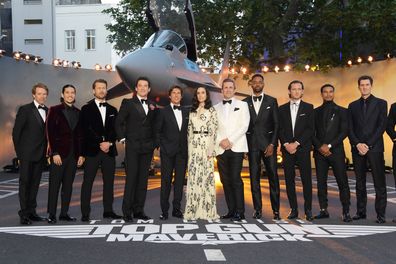 "We all worked very, very hard. We put a lot in this movie, a lot of time and our bodies on the line and in the back of an F-18 jet in order to give the audience a thrill ride," says Glen Powell, whose character Lieutenant Jake "Hangman" Seresin is likened to Val Kilmer's Tom "Iceman" Kazansky from the original. 
READ MORE: Lash technician's client wants to sue after going blind from treatment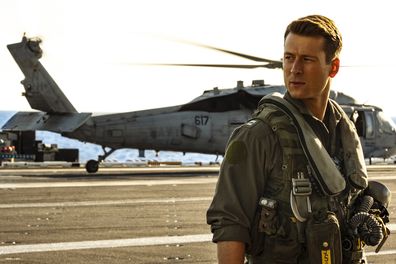 "To have the world go, 'This is one of the best sequels of all time – it's a perfect blockbuster,' just feels really great to be part of a great legacy and to build on it," he adds. "This movie was not possible without Tom Cruise being Tom Cruise for 40 years. And that I think is what makes this really special."
Lewis Pullman, who plays Lieutenant Robert "Bob" Floyd in the film, admitted the new-gen cast did feel pressure to deliver a sequel that is just as loved as the 1986 original. But with Cruise spearheading the project, there was never any doubt. 
"It's an incredibly renowned movie and people feel a sense of protectiveness over it," says Pullman, who is the son of Hollywood actor Bill Pullman. 
"There was a lot of concern, like, 'Are you guys going to mess this thing up?' But I felt really confident going in because we had Tom leading the charge, and he knows better than anybody what teams and what kind of energy is needed to follow through in order to propel this thing and make it a success. And so having Tom as the engine was really comforting and it felt like we could do no wrong."
READ MORE: Christian Bale completely transformed in new film
But first, to transform into top-tier fighter pilots, the young actors were put through a gruelling training program Miles Teller (aka Lieutenant Bradley "Rooster" Bradshaw) dubbed "Tom Cruise Boot Camp". No CGI was involved in the making of this film. At Cruise's insistence, real fighter planes were used and all action scenes had practical effects. 
"I feel like I spent my life watching Tom Cruise in action movies and hearing the stories of doing him doing his own stunts," Jay Ellis – who plays Lieutenant Reuben "Payback" Fitch – tell 9Honey Celebrity.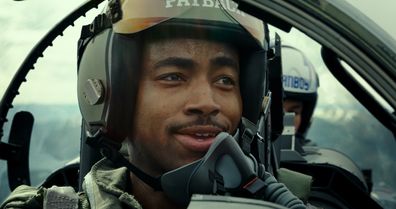 "Becoming an actor myself and stepping into that space, it was like I can't wait to do that as well. So when we were told that we were going to fly in the movie, I was like, 'Yes, sign me up. I'm ready to do it, let's go.'"
"CGI and Tom Cruise don't even go in the same sentence, come on now," Tarzan Davis – who plays Lieutenant Javy "Coyote" Machado – laughs.
"He set up this program for us to follow and he made sure we were prepared, flying in a Cessna Extra 300 in order to look confident and be like real navy pilots in an F-18 jet, as well as setting up this swim program so we can qualify to fly in an F-18. It was intense but it was an experience I would not trade for the world."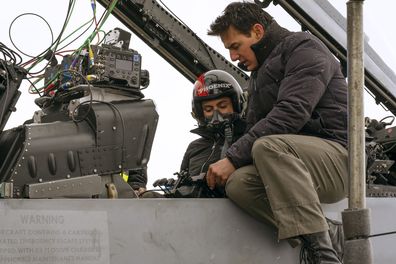 The sequel also sees the first-ever female navy fighter pilot in the franchise, with Monica Barbaro taking on the role of Lieutenant Natasha "Phoenix" Trace.
She was not only thrilled to fly high with Cruise and their crew, but she had the privilege of training with real-life female naval officers.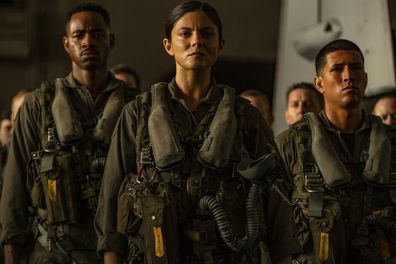 "It was an absolute honour," Barbaro tells 9Honey Celebrity. "I met some incredible aviators who told me about their experiences as women in the military and women in aviation. About nine per cent of pilots are women, which is obviously still a shockingly low number and yet they're so capable and so smart and have every faculty available to them to become pilots. So I think some of them are hoping this movie might change that a bit."
"I know I am working on my pilot's licence because they were just so inspiring," she adds. "It was an honour to attempt to represent them."
Top Gun: Maverick is in cinemas exclusively from March 26.
For a daily dose of 9Honey, subscribe to our newsletter here.
Share this news on your Fb,Twitter and Whatsapp
Times News Express – Breaking News Updates – Latest News Headlines
Times News Express||USA NEWS||WORLD NEWS||CELEBRITY NEWS||POLITICS||TOP STORIES