AUSTRALIA
RMIT, Swinburne, La Trobe post hefty deficits but not all unis in the red
Deakin University, for example, posted a $17.23 million surplus, although it was significantly less than its 2019 surplus of $107.97 million.
Victoria University posted a $6.07 million surplus, down from $24.35 million the year before, and Federation University reported a surplus of $3.9 million, well below its $36.7 million surplus in the previous year.
Monash and Melbourne, the state's two largest universities, have already reported surpluses of $267 million and $9 million respectively.
Peter Hurley, education policy fellow at Victoria University's Mitchell Institute, said nobody should interpret the mixed financial results as a sign that universities had seen off the worst of the economic impact of the pandemic.
"This year and next year were always the ones when the most pronounced drops were going to be felt," he said.
This is because new enrolments from full-fee paying international students are expected to be well down this year and next year on 2020's figures.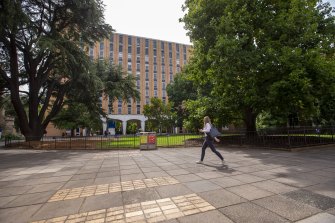 Dr Hurley's warning was echoed by Monash University vice-chancellor Margaret Gardner.
"The ongoing uncertainty of 2021, the pipeline effect of fewer enrolled students, combined with a predicted further decline in commencing international student enrolments over 2022 and 2023, is anticipated to produce further deficits in the coming years," she wrote in the report's foreword.
Loading
RMIT University said border closures and curbs on student mobility were particularly acute in Australia last year.
"Both domestic and international students are impacted by this global pandemic, and we anticipate total student enrolments to be down in 2021, with impacts into 2022," it said.
"While we aren't in a position to make projections beyond 2022, the prolonged closure of international borders and reduced student enrolments will likely impact our financial position in future years."
Victoria's university sector has been lobbying the Victorian government to confirm a plan for the resumption of flights of international students.
Share this news on your Fb,Twitter and Whatsapp