UK
Tiger Woods 'lucky to survive' after suffering major injuries in car accident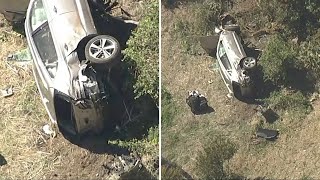 Word quickly reached the World Golf Championship Workday Challenge near Tampa, where the game's top players are preparing for Thursday's first round. Justin Thomas, a neighbour and regular practice partner of Woods, could not contain his emotions in a press conference he should never have been asked to undertake at the Concession Golf Club. 
"I'm sick to my stomach," the world No 3 said, his voice cracking up as he cried. "You know, it hurts to see one of your closest friends get in an accident. Man, I just hope he's all right. Just worry for his kids [daughter Sam, 13 and son Charlie, 11]. I'm sure they're struggling." 
Adam Scott concurred. "It's sickening," the former world No 1 said. "He's our hero out here. You think guys like Tiger and Kobe Bryant are untouchable, but they're not. I just hope he's all right." Jack Nicklaus said: "Please join us in wishing Tiger a successful surgery and all the best for a full recovery."
Woods's turbulent narrative has an eerie connection with car crashes. In 2009, he was involved in a collision  with a fire hydrant outside his then Orlando home and from there the exposés poured forth of his multiple affairs. The sex scandal ruined his marriage and his reputation and his game went into a spiral. 
He reinstated himself as world No 1 in 2013 but his spinal complaints started to take their toll and in 2017, Woods was arrested in Florida on DUI charges when discovered slumped over his wheel in the early hours.  A toxicology report found find five different pain-killing drugs in his system and he entered rehabilitation soon after. 
On Sunday, Woods gave an interview during the final round and cast doubt that he would recover from this latest procedure in time to play in the Masters in April, the major where he made his dramatic comeback two years ago. Viewers discussed on social media that Woods looked weary and strangely unresponsive during the segment. The sheriff department said last night  there was "no evidence of impairment at this point of time".
As well as Thomas and Rose, the best-wishes came from far and wide. "Our thoughts are with Tiger and his family at this time," said the R&A. President Trump also extended his respect: "Get well soon, Tiger. You are a true champion!"
Share this news on your Fb,Twitter and Whatsapp